Cold bench COOL ALASTAR
CFC and HCFC Free
Low temperature workbench that can stop product and sample temperatures from increasing.
This is a low temperature workbench developed for treatment of blood products to maintain their quality. The workbench can keep blood products, valuable research material, and other products that must be handled at low temperatures at low temperatures even at room temperature, allowing for efficient work and optimal quality control.
Japanese Medical Equipment Manufacturing and Sales Authorization No. 21900BZX00014000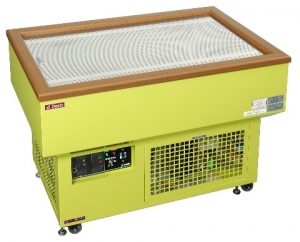 DCA-B120R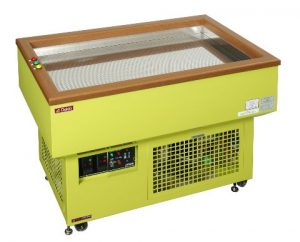 DCA-B120RF
Features
[1] Allows for quality control for creating high-quality products while easily preventing the temperature of the product from rising during processing.
[2] Comes with wheels to make moving convenient.
Product Specifications
Refrigerator type
Freezer/refrigerator convertible type
Model
DCA-
B120R
DCA-
B150R
DCA-
B200R
DCA-
B120RF
DCA-
B150RF
DCA-
B200RF
Temperature
4℃
-20℃or4℃
External dimensions
W1200x
D750x
H850
W1500x
D750x
H850
W1800x
D900x
H850
W1200x
D750x
H850
W1500x
D750x
H850
W1800x
D900x
H850
Refrigerant
HFC