Explosion-protected Spot Cooler
<h6″>CFC and HCFC FreeTechnology Institution of Industrial Safety certified product
Countermeasure for heat stroke in hazardous areas.
Features
[1] Can be used in Zone 1 and Zone 2 hazardous areas.
Note: See classification of explosive gas and electrical equipment.
[2] Refrigerant circuits are pressurized enclosures, while the control circuits are flameproof enclosures.
[3] The entire unit is of an explosion-protected construction.
[4] A drain tank has been installed at the bottom of the unit.
[5] The length of the power cord can be changed (optional, standard length: 3m).
[6] Comes with wheels and stoppers to make moving and anchoring the unit convenient.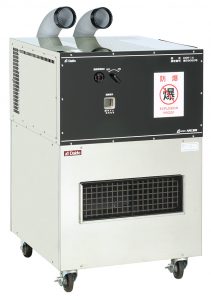 Product Specifications
Model
DGR-1A-SP
DGR-1A-SPS
Certification number
#T59062
External dimensions[mm]
W730 D700(+140) H1144
W800 D800(+110) H1359
Material

Interior and exterior: SUS304 stainless steel
Ventilation
Propeller fan
Sirocco fan
Air flow rate
・50Hz ~5.4m3/min
・60Hz ~6.0m3/min
・50Hz ~10.0m3/min
・60Hz ~11.0m3/min
Breaker
20A
Cooling capacity
1.4kW
Explosion-proof performance
fd2G4
Power

Single-phase 100 V, 50 / 60 Hz, power cord, 3PNCT, 3.5sq, 3-core 3m, round terminal, no plug