Unit Type Large Capacity Explosion-protected Freezer/Refrigerator
CFC and HCFC Free
Technology Institution of Industrial Safety certified product
Features
[1] Can be used in Zone 1 and Zone 2 hazardous areas.
Note: See classification of explosive gas and electrical equipment.
[2] Uses a forced-draft system that allows for more rapid uniform cooling of the chamber than with direct cooling types.
[3] Comes with an abnormal temperature detector and a pressure drop detector.
[4] Warning alarm can be set at any temperature.
[5] Equipped with a digital thermostat on the front panel.
[6] Equipped with a temperature warning display lamp. (Comes with an external warning connection terminal.)
Warning lamp will light the moment there is an abnormal temperature.
[7] Refrigerant circuits are pressurized enclosures, while the control equipment uses a flameproof enclosure.
[8] The chamber and unit equipment are all of an explosion-protected construction.
[9] Comes with an automatic defrosting system.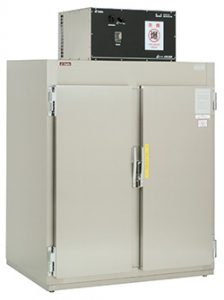 Product Specifications
Model
DGR-2A-R
(Refrigerated type)
DGR-2A-F
(Freezer type)
Certification number
#T59063(TIIS)
Operating temperature range
+2 to -10°C
-20 to 0°C
Capacity
800ℓ、1000ℓ、1200ℓ、1500ℓ
700ℓ(50Hz)
Explosion-protected class
fd2G4
Power

Single-phase 100 V, 50 / 60 Hz, power cord, 3PNCT, 3.5sq, 3-core 3m, round terminal, no plug
※Refrigerator units not available as a standalone product.